Recently, after the Ministry of Finance and the National Development and Reform Commission have issued new distributed power generation policies, China Southern Power Grid Co., Ltd. has formally issued the "Guiding Opinions on Further Supporting the Development of New Energy Sources such as Photovoltaic Power" from grid-connected, purchased, sold, grid-connected dispatch management, etc. The party supports the orderly and coordinated development of new energy sources. At the same time, in order to support the distributed power grid connection, the State Grid Corporation is no longer confined to the entire process of providing distributed power supply access to the grid for technical consulting, project acceptance and commissioning, etc. It also began to focus on strengthening distribution network construction to support large-scale distribution. Power supply access. The two major power grid companies are the specific implementers of the national policy to promote the development of distributed power supplies. Therefore, a series of measures of the two major power grids will undoubtedly inject the most direct driving force into the grid-connected distributed power supply.
Renhao Ning, a researcher in the energy industry of China Investment Advisors, believes that although distributed energy cannot become the main force of China's energy and electricity, and it is difficult to ensure the supply of China's energy and electricity, distributed energy is still a useful and necessary supplement for energy bases. In the long run, the construction of distributed energy power plants complies with the overall requirements of China's energy structure adjustment, and distributed projects will also receive more attention from companies and investors.
Among them, grid-connected policies and subsidy policies are the most crucial. If these two measures cannot be effectively implemented, the profitability of distributed energy projects will be greatly weakened, and the enthusiasm for the construction and operation of enterprises and investors will disappear. In particular, new energy projects such as distributed photovoltaics, wind power, and biomass energy are more dependent on subsidies and grid-connected policies. Many documents and instructions have been issued at the national level, and it is hoped that the grid companies will provide sufficient support in the grid connection. The results achieved are not very good and relevant work needs to be implemented with emphasis.
In the process of grid-connected distribution, distributed energy requires higher power equipment, and the demand for core components such as inverters will increase substantially. With the continuous development of the distributed energy industry, work on power grid construction will also spread day by day, and the power equipment industry is expected to be affected by this into a good revenue growth period. At the same time, the relevant listed companies have begun to lay out the next round of bidding for power equipment. The National Grid and China Southern Power Grid are expected to implement the bidding work for distributed energy project grid-connected equipment as soon as possible.
The China Investment Advisor "2013-2017 China's New Energy Industry Investment Analysis and Prospect Forecast Report" pointed out that China has made remarkable progress in the development and utilization of new energy and renewable energy, and its technology has greatly improved, and industrialization has Take shape. Biomass energy, nuclear energy, geothermal energy, hydrogen energy, ocean energy and other new energy sources have great potential for development and have been greatly developed in recent years. Among them, the scale of construction and utilization efficiency of distributed energy will also be greatly enhanced. During the "Twelfth Five-Year Plan" period, China's distributed energy industry is expected to usher in a rapid development cycle.
T/J Copper Bolt Connectors is suitable for the sequence and transportation of all kinds of conductors in electric network.
1) T/J Copper Bolt Connectors availabe size from 16mm2-240mm2.
2) Hexagonal type head or customed as per drawings or sample.
3) Imported copper wire clamp, made of brass H62 by die casting.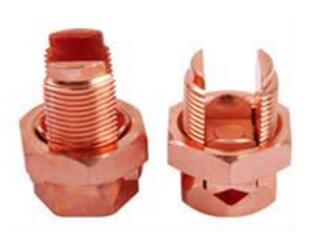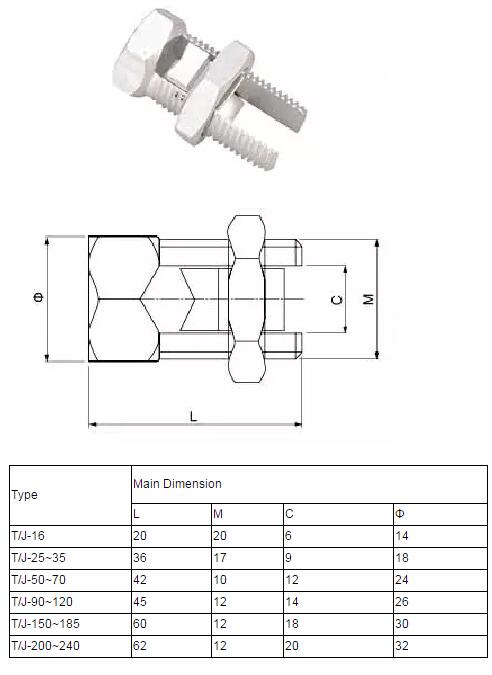 If you have any questions, please contact with us directly.
Our company is solemnly committed to the majority of customers: reasonable price, short production cycle, considerate service. We look forward to cooperating with you.

Copper Bolt Clamp,Copper Split Bolt Clamp,Split Connector Bolt Clamp,Copper Split Bolt Connector
Shandong Vantage International Trade Co., Ltd. , http://www.steelplate.be